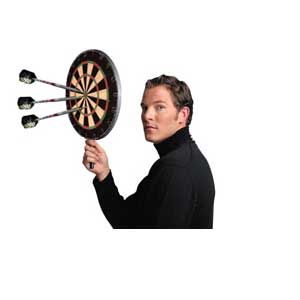 TITLE--Men with Darts
CAST--3
LENGTH OF PERFORMANCE--Roving, transitional piece, 45 min shifts (3 games)
SYNOPSIS--
Men with darts is a simple ambient performance for use at large events.
It consists of three men in tracksuits who wander round a venue with dart boards attached to the tops of their heads horizontally conversing with mime and symmetrical movement pieces before deciding (using the rock /paper/scissors game) who next gets to be the dart board.
Two of the men then cordon a suitable area while the third reluctantly positions his dart board vertically in front of his face and neck and the other two play darts on him.
This lasts a short time. ( first to 500 )
-a winner evolves-congrats all round-
Dart boards are once again positioned identically and the group moves off to repeat the process, rotating the dart board man.
TECHNICAL REQUIREMENTS--
To address safety issues -- Event production apprehension and vivid imaginations combining pointed objects in the air and a litigious public can be made moot simply by the precondition that performance areas are preprescribed and physically cordoned such that the audience are behind the throwers.
More specifically that a cleared width of 5 meters is applied to the sides of the performance.
The only personnel in front of the competitors is a man wearing a tracksuit with a dartboard covering his head and neck.
(I could have been a Doctor)
The dartboardized performer will wear protective clothing under his costume to mitigate the patently absurd likelihood of a dartboard being missed.
I have not missed a board in twenty years of competitive playing and my cast are equally proficient.
Obviously also a weather permitting factor applies.
POSSIBLE APPLICATIONS--
Festivals, Corporate foyers, Pre-Wimbledon.

Home
Productions
Services
Products
Links
E-Mail
Copywrite 2001- anti-gravity theatre--All rights reserved