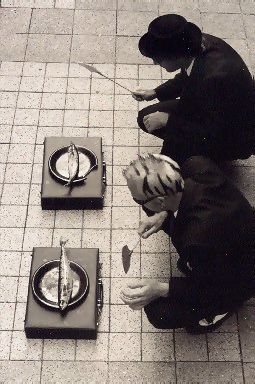 TITLE-- 'Fly-Fishing'
CAST -- ; Colin Franks and Phil LeConte
LENGTH OF PERFORMANCE-- 30 mins
SYNOPSIS--
Flyfishing is an absurd comic premice piece involving two business sharks whose commerce revolves around baiting, catching and packaging flys for retail purposes.
It is a surreal engaging modern mime performance initially performed at the Waterloo International street theatre festival in Canada Aug 2001.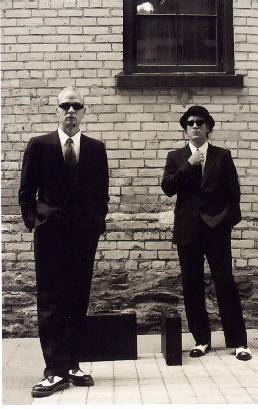 It was inaugrally successful and at present is under further development to enhance its metaphor and audience engagement levels and also its possible indoor application.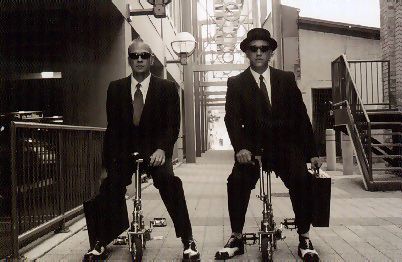 TECHNICAL REQUIREMENTS--Climate must include flys. Although with appropriate sound effects the performance could be staged indoors)
SUGGESTED APPLICATIONS--Festivals, other.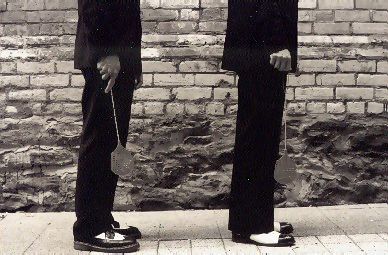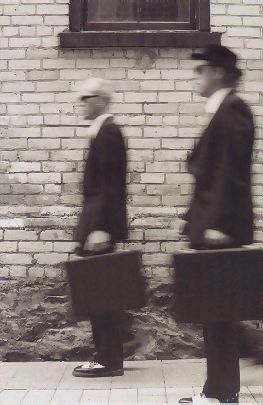 Additional retail absurdity is also provided via---FLY-BUYS
COPY
FLY-FISHING
Something old
Something new
Something borrowed
A fish.
Anti-gravity theatre, last year it was Lurk, this year Sturgeon.
With its hallmark eccentricity and customary absurdity Anti-gravity theatre (NZ) this year brings the seedy underhand world of corporate competition out into the open.
Gasp at the treachery, marvel at the cunning, palpitate at the stupidity of this set piece as flys (mostly local) become a currency of success.
Fly-fishing is a further hilarious example of Anti-gravity theatres Who are you calling a panto! mime style.
Directed by Martin Ewen and performed by two of Canada's fines freestyle comedians, Fly-fishing will alter your perception of middle management forever.
---
Home
Productions
Services
Products
Links
E-Mail
ęCopywrite 2001- anti-gravity theatre--All rights reserved