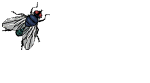 FLY-BUYS
As an adjunct to Anti-gravitys 'Fly Fishing' performance and as a central premice of the piece.
FLYS are sold.
These Flys come in a variety of sizes, are made of plastic and each fly is contained inside a decorative plastic bubble with a signed , numbered information sheet detailing the flys name, its favorite smell and a favorite passtime.
Admittedly its pointless nonsense but then so are you.
Anti-gravity flys are a unique addition to anyones impulse-buying fixation and as a gift they say "I'm a confused human being but I'm trying. Please love me and together we can look for a cure."
They also display...
A sense of humanity and humour
Proof of Arts Sponsorship
A strange yet somehow wise set of priorities
"It is a cherished ambition that one day one will be re-sold on E-bay."

Cost $50 US
In either US currency or cash cheque.
Posted to M.Ewen
33 Pierce Ln
West Cornwall
Connecticut
CT 06796
USA
(Please allow 14 days delivery, include return address and valid e-mail with payment)
Home
Productions
Services
Products
links