"Busker as artist,

Busking as ageless art.

Site specific street performance

Comedy and spectacle."

Martin Ewen.
"Antigravity Theatre" Primarily exists as a vehicle for Martin Ewen, to propel his bizarre solo comic genius onto the world at large . He has performed solo with his stilt clown character "Lurk", as well as set stilt dance pieces and other site specific productions in 83 cities throughout 21 countries.
Anti.gravity theatre has lightened hearts, raised the profile and respect accorded street performance, mime and clown. Achieving degrees of glee in multicultural audiences that only the most serious of clowns could contemplate,-let alone accomplish.

Anti.gravity theatre is dedicated to the production, tuition, promotion and instigation of modern clown. The creation of effects and atmospheres in public and other places as an extension of it's exploration of street theatre in it's broadest sense, as a theatre of environment.

All succinct intellectual verbosity aside ........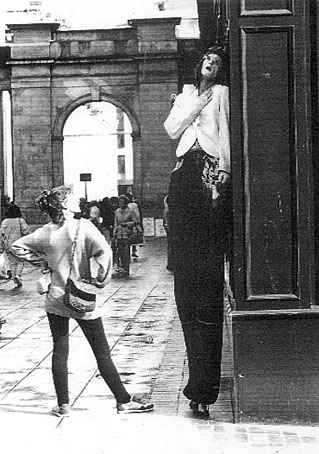 Anti.Gravity Theatre --Weights For No-One--
Home
Productions
Services
Products
Links